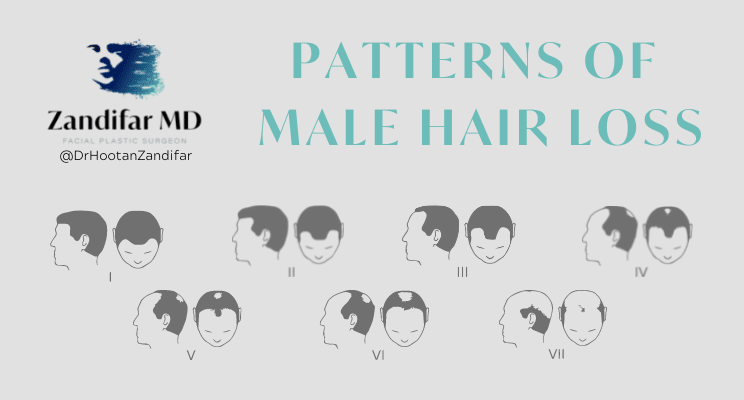 As a man who is losing his hair what should I expect? Loss or thinning of hair is a common complaint amongst men. In fact, it is not unusual to have patients complain of hair loss as early as 20 years of age. Approximately 2 out of 3 men experience hair loss to the degree that they would consider medical or surgical treatment.
What causes hair loss in men? In men, the most common cause of hair loss is through a process called androgenic alopecia. Androgenic alopecia is the scientific name for male pattern baldness. Essentially, the biological reason behind this is the interaction of the hormone testosterone (which is found in females in small amounts) with the hair follicles that are typically in the forehead and temple regions. Exposure of testosterone to these follicles causes thinning of the hair and eventual loss of hair in mainly the forehead and temple region. The degree of hair loss is mostly dependent on the genetic predisposition of the hair follicles.
How much more hair loss should I expect? Dr. Norwood's classification shows the natural progression of hairloss in men.
What is Norwood Classification?
Class I: Patient's in this classification have no loss or thinning but genetically may be prone to hair loss therefore, early intervention with topical treatments may prevent any hair loss.
Class II: Patient's in this classification have some loss along the hairline and temples. These patients usually have great results with oral and topical treatments. Some may even benefit from follicular unit hair transplantation.
Class III: This classification is defined by increased hair loss along the frontal and temple area and thinning of the hair volume along the vertex. Hair transplantation is the best choice for these patients.
Class IV: Patient's in this classification have further loss of the hair line and the appearance of a bald spot along the vertex. The best treatment in this stage is again follicular unit hair transplantation.
Class VI: The patient's in this classification have sever hair loss with a horse shoe appearance. Follicular hair transplantation combined with scalp reduction techniques can improve the appearance in these patients. Some patient's may consider artificial hair restoration such as a hairpiece.
Class VII: Patient's in this classification have sever hair loss and only a thin horseshoe hair appearance. As of today the best treatment option for them is artificial hair restoration in form of a hairpiece.
Male hairloss is a vulnerable topic of conversation and one surrounded by stigma. While common among men, it is not often discussed, however there are many surgical procedures and options for hair restoration. Contact us for a consultation to learn what procedures are available to you in your hair restoration journey.