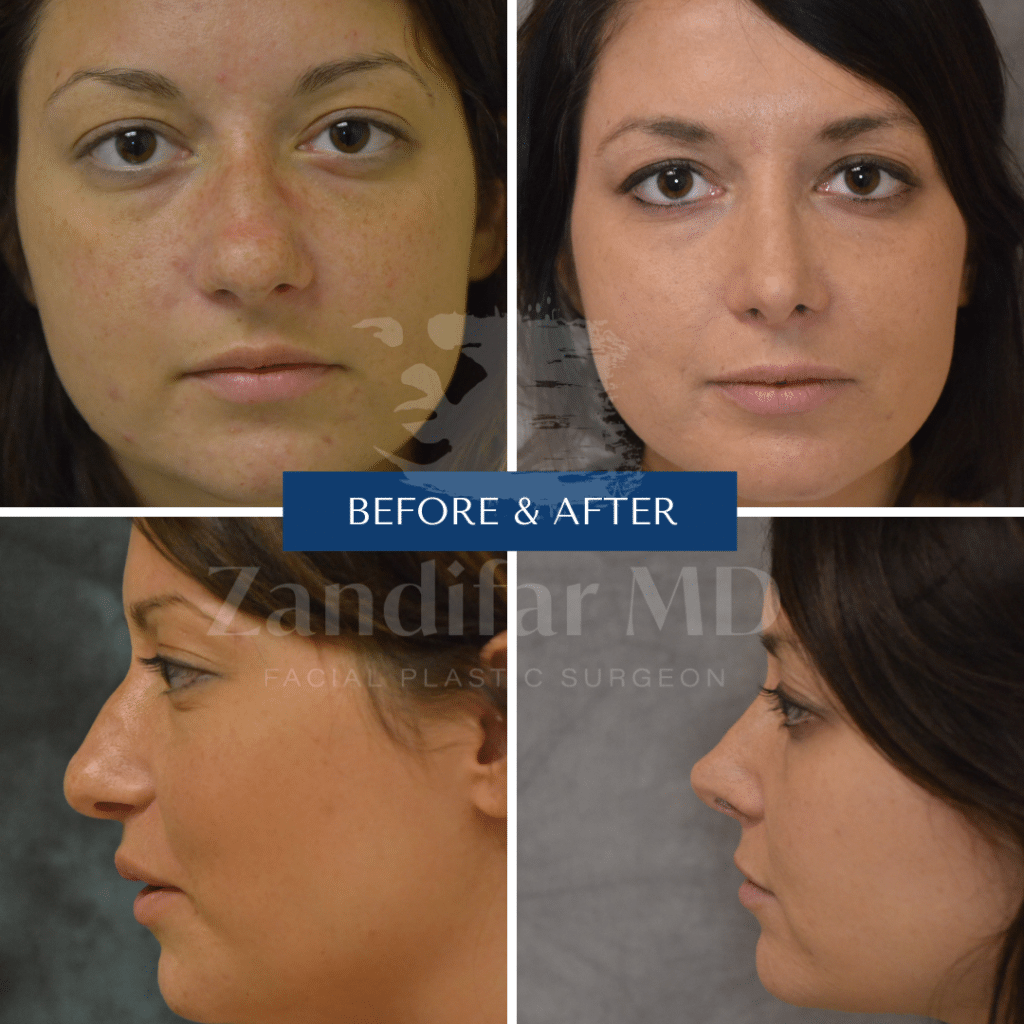 If you are thinking about improving the shape and appearance of your nose then you should read this first. Rhinoplasty or a nose job is one of the most common cosmetic facial procedures performed worldwide. Dr. Hootan Zandifar, a double board certified and fellowship trained facial plastic surgeon is an expert in rhinoplasty surgery. His experience and expertise makes him the ideal surgeon for a patient seeking a tailor made nose job surgery.
Here, Dr. Zandifar answers what common questions he is asked about rhinoplasty by patients considering having this surgery?
At what age can you get a nose job?
Generally, a nose job can be done on anyone older than 16 years of age. Most noses are not at their adult size until around 16-18 years of age. Typically, it is not recommended to have any type of nasal surgery until the nose has fully grown and that is because it is possible to damage the growth plates of the nose if a surgery is done before the nose is fully grown.
What is a nose job and what can a nose job do?
A nose job or a rhinoplasty is the name given to the procedure that is performed to change the shape and appearance of the nose. A nose job can be done to correct a perceived cosmetic imperfection such as a bump on the nose or a wide nose, it can be done to repair a nose that has sustained trauma such as a broken nose and it can be done to improve nasal breathing.
What is the recovery of a nose job?
A typical recovery for a nose job can be divided into a few stages. The acute recovery is usually 7-10 days. During this phase the visible swelling of the nose rapidly decreases and the nose will look normal. Over the next 2-3 months the shape of the nose becomes more refined. Finally over the next 8-10 months any small amount of swelling of the nose will dissipate and the final shape of the nose is apparent.
Is a nose job covered by insurance?
Typically, medical insurance does not pay for any cosmetic surgery including a cosmetic nasal surgery or a rhinoplasty. However, in some cases, insurance can cover some of the cost of a nose job that is being done to improve nasal breathing. However, even in those instances, there are parts of the surgery that are not going to be covered by insurance.
How much does a nose job cost?
The typical cost of a nose job can vary depending on what exactly is being done.  However, a nose job can typically cost anywhere between $12,000 – $16,000
What is the best approach to a nose job?
Answer: A nose job or a rhinoplasty can be performed either as a closed (endonasal) or an open (external) approach. The difference between the two techniques it that the open approach has an extra incision along the base of the nose. The open approach allows for better visualization of the structures under the skin and allows for a more precise correction of the nose.  It is best for complicated noses that require lots of correction. A closed approach does not have this extra scar and thus has less visualization. However, it has less swelling and a faster recovery.  An experienced surgeon would be able to perform the right procedure for the right nose.
In closing, Rhinoplasty is a complicated procedure that requires a significant amount of expertise.  However, when done correctly and by an experienced surgeon the results are fantastic and patients are extremely happy with the outcome.
If you are considering a rhinoplasty contact us for a consultation.