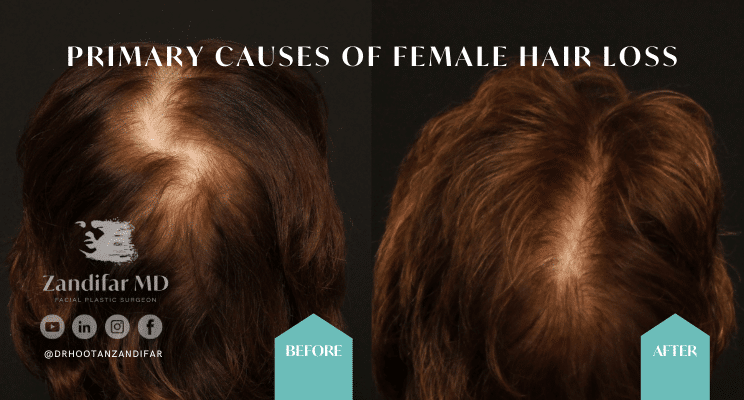 1 in 5 women will suffer from hair loss during their lifetime. Here are some of the common causes.
The first and most common cause of female hair loss is genetic. This is usually called androgenetic hair loss and is also the most common cause of male hair loss. In men this results in male pattern baldness but in women the characteristics of baldness are different. For a detailed description of the pattern of female baldness click here.
The second cause of female hair loss is mainly due to stress. This condition is typically called Telogen Effluvium. The stress could be due to physical or emotional stress and the hair loss can be generalized along most of the scalp.
The third cause of female hair loss is mostly related to hormones. Low or high thyroid levels have been associated with hair loss. Increase in male hormone in females has also been associated with hair loss. Certain conditions such as polycystic ovarian syndrome can cause hormone imbalance and female pattern baldness. Hormonal changes during pregnancy can also cause hair loss in women.
The fourth common cause of female hair loss is traumatic. A certain condition known as traction alopecia is common in women who wear very tight weaves in their hair. The constant pulling of the weaves or tight ponytails can cause the hair follicles to weaken and eventually leads to hair loss.
The fifth cause of female hair loss is due to medication and nutritional deficiencies. Certain commonly used medications for blood pressure regulation can lead to thinning of the hair. Also nutritional deficiencies in various vitamins and minerals can lead to hair thinning and hair loss.
In conclusion, hair loss in women is a common condition that afflicts about 20% of women during their lifetime. Most of these conditions are correctable and reversible. However, in cases where the condition has caused significant hair loss, a female hair transplant procedure is an ideal treatment.
If you have any questions or concerns about hair loss and are wondering if hair transplantation is the right procedure for you then you can request an appointment here.